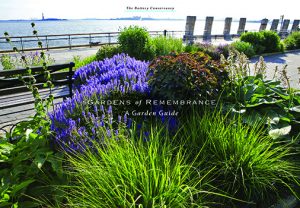 Wish you could identify that glorious tuft of pink or that spectacularly shaped purple flower at The Battery?  Now you can! With our unique, award-winning garden guide, you can now stroll the Gardens of Remembrance using renowned plantsman Piet Oudolf's hand-drawn garden plans.
Each guidebook measures 8.5 x 5.875 inches, the perfect size for carrying while strolling through the gardens. 44 vibrantly colored pages take the reader from Gardens 1 through 4 at the park's north entrance, past Castle Clinton National Monument, and along the promenade for gardens 5 through 18.
Printed on 100% recyclable, water-resistant, tear-free and "tree-free" YUPO paper, the guidebook exemplifies the sustainable design of The Battery and its horticultural master plan.
Garden Guide Wins 2007 Wally Award: A distinguished panel of five judges has selected the Battery Conservancy's Gardens of Remembrance: A Garden Guide as one of three designs for top honors in Yupo Corporation America's fifth annual 'Wally Awards'. The three Wally Award winners were chosen from over 120 submissions of projects created on YUPO ranging from brochures, labels, and menus to posters, maps, and watercolor paintings.