Five Ecology Zones:
Bluff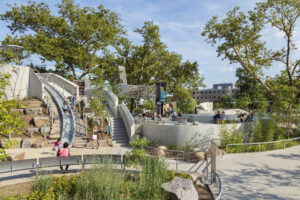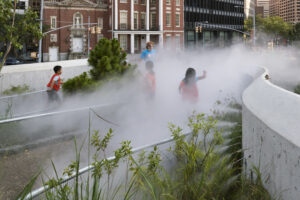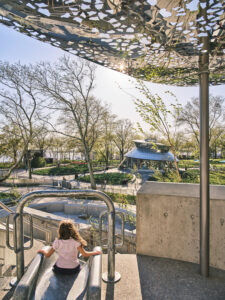 Five Adirondack granite slides are set among perennial gardens and rock outcroppings. The low and medium slides are doubles, allowing toddlers to hold hands with a friend or family member. The high slide reaches 18 feet in height. Wheelchair transfer platforms are at the low and medium slides. The Bluff ramp ascends to the Cliff House which is wheelchair accessible and is at the same elevation as the Half Moon House, located in the Marsh. Horticulture enhances the stone crevasses of the Bluff and is reflected in the mirrored Shade Clouds. These sculptural elements protect children from the sun as the tree canopy matures.
Riverbed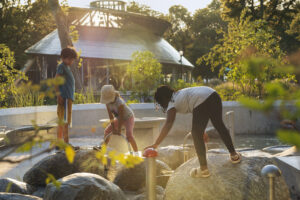 Water flows and cascades into a sand basin inspired by Manhattan's grand rivers. Hidden under the sand, children discover fascinating creatures found in New York Harbor, including a 4ft octopus. The Riverbed is designed for all children, and includes a wheelchair transfer platform.
Marsh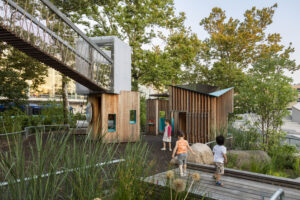 Seven playhouses populate the Marsh. The Shadow, Peek-A-Boo, and Rain/Percussion houses are at ground level, inspiring improvisation. Four houses, Cloud, Triangle, Half Moon, and Sky, are reached by connecting ladders, a footbridge, and a tunnel. They invite children to experience height and views of city and sea. All houses encourage role playing, creativity and collaboration.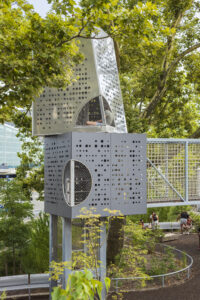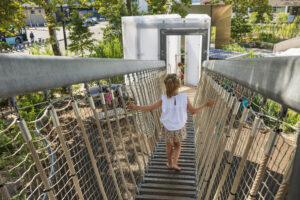 Dune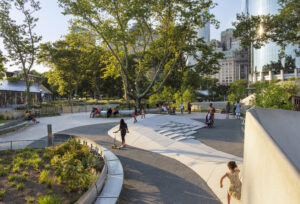 The Dune landscape presents an undulating climbing structure and Showbox, the first improv theater in a NYC playground. The 9ft climbing wall descends into steps for pre-toddlers as they advance from crawling to walking, important to developmental learning.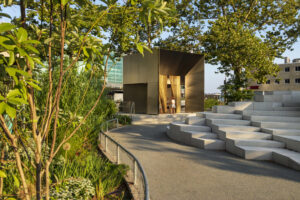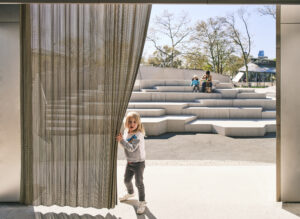 The Dune transforms into amphitheater seating for performances at  ShowBox. This unique theater was developed with Cheryl Henson of Jim Henson Foundation and MacArthur Fellow Basil Twist.  ShowBox is a 14ft two-toned stainless steel cube that has a 9ft x 9ft stage with metal-mesh curtains and rigging for student-made scenery. It will present string puppets, plays, musicals, dance, and recitals. Its southeast corner hosts the Hand Puppet Nook. Children become artists, actors, directors, producers, musicians, and puppeteers.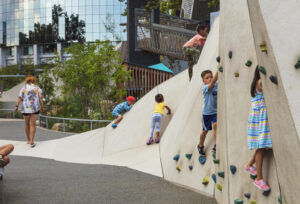 Meadow
The Meadow invites children to meander and discover an enchanted world of conifers, native shrubs, grasses and blooming perennials. They are immersed in "wild" nature and are free to explore an enchanted and biodiverse oasis.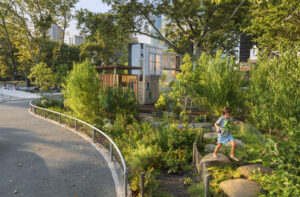 Features:
Lyrical patterns of water illuminate the portal, fence, and custom seating. Daylight filters through the punctuated surfaces to showcase Manhattan island's tides and currents. It illustrates the interplay of water and light. The unique portal to the 1.4-acre playground ensures children's safety as they wander and explore all five ecology zones. Seating connects these multi play environments and weaves among 40,000 square feet of gardens.
Perennial plantings are inspired by the ecologies of New York State. Salt-water and flood tolerant trees and shrubs accommodate the next great storm and ensure these plantings survive and flourish. The Battery Playscape will be an appealing stop for migratory birds and insects, such as the Monarch butterflies feeding on the Milkweed that populates the Bluff and Meadow.
Verdant bioswales interconnect the Playscape experience, capturing rainwater. Even on dry days, the swales are activated by runoff from the Riverbed's water play. In rainy weather, runoff hydrates native plantings as it percolates into the soil. Crisscrossed by footbridges, these swales offer children a closeup view of stormwater practices and the importance of wetlands to our human, plant, and animal communities.
A reservoir accommodating 30,000 gallons of stormwater prevents overflow and protects the wildlife of New York Harbor.