On Sunday, November 14, 2021, The Battery Conservancy and NYC Parks unveiled "The Great Debate" by Hebru Brantley, in partnership with NYC Parks Art in the Parks Program. A painted fiberglass structure that stands 16 feet tall, the public art piece will be on display from 14 November 2021- 13 November 2022 #FlyboyatTheBattery
"THE GREAT DEBATE reflects the positive side of public discourse, no matter if we agree or disagree. What is important is that we have the freedom to do so. My hope is that Flyboy at The Battery will serve as a consistent reminder to hold your head high, stand firm in what you believe in, and keep pushing forward with confidence.
The Flyboy character that I have created has become a pillar of hope and optimism for people around the world. He challenges people to transcend their circumstances and believe they are worthy of their dreams, no matter the color of their skin or the neighborhood they grew up in." -Hebru Brantley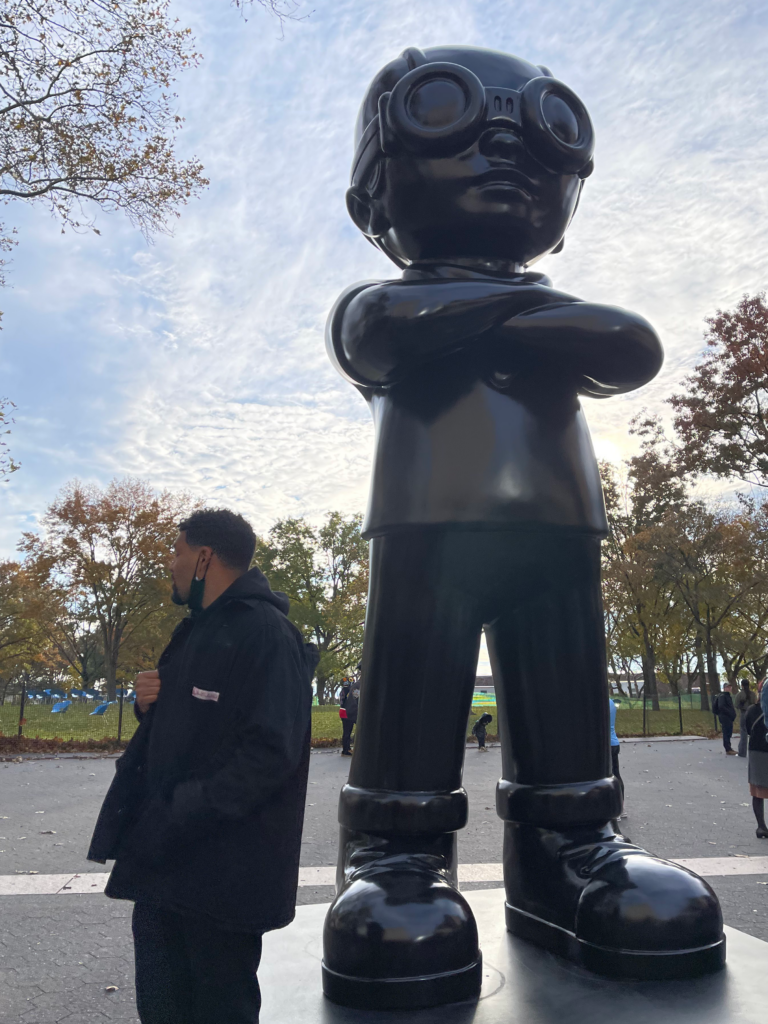 President and Founder Warrie Price gave the following remarks, welcoming "The Great Debate" and FlyBoy to The Battery:
"Flyboy,
You are The Battery's first "Scholar in Residence."
We extend to you during your 12 month sabbatical:
-the freedom to wander (mentally, of course, at your scale),
-to explore,
-to find new pathways of expression
This is what happens in the place where you so confidently stand.
The Battery has embraced humankind throughout the ages.
It is here to serve all who come seeking Opportunity, Renewal, HOPE.
Flyboy, you are now part of this ever evolving legacy and we say WELCOME.
Your residency only required you to:
-Value your experience
-Thrive within uncertainty and
-Spread your optimism far and wide."
Watch the opening ceremony in its entirety here:
Come visit "The Great Debate" and say hi to Flyboy! Don't forget to tag #FlyboyatTheBattery to be featured on our Instagram stories.